Kyudo is simpelweg gezegd: Japans boogschieten.

De Nederlandse vertaling van het woord is 'de weg van de boog', Kyu staat voor boog en do voor de weg. Deze Do-vorm kennen we ook in bijvoorbeeld Kendo (de weg van het zwaard) en Chado (de theeceremonie). Dat het hier een Do-vorm betreft, een weg, wijst er al op dat het hier om meer gaat dan een vernuftig technische handeling alleen.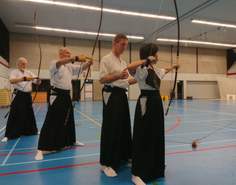 Tijdens onze trainingen proberen we, naast het onvermijdelijke technische onderricht, ook aandacht te besteden aan het mentale aspect dat een grote (zo niet de grootste) rol speelt binnen het beoefenen van Kyudo.

Op deze manier proberen we het Kyudo interessant te maken voor zowel mensen die op zoek zijn naar een fysieke activiteit. Maar ook voor mensen die een stap verder willen gaan en Kyudo willen beoefenen om zich mentaal te ontwikkelen.
Voor meer informatie: https://www.japan-talk.com/jt/new/kyudo

===

Simply said: Kyudo is Japanese archery.

The English translation of the word is 'the way of the bow', 'Kyu' refers to the bow and 'do' to the way or path. This do-form can also be recognized in Kendo (way of the sword), and Chado (the tea-ceremony).
Considering that we're dealing with a Do-form, a path or way, indicates that we are dealing with more than Just some intricate technical activity.

During our training we try, besides the unavoidable technical education, to also dedicate some attention to the mental aspect that plays a big (if not the biggest) role in the practising of Kyudo.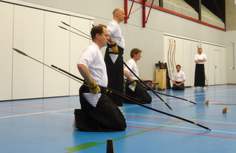 This way we try to make Kyudo interesting for people that are looking for a physical activity; but also for people who want to go a step further and want to practice Kyudo for a personal mental advancement.
For more information: https://www.ikyf.org/about_kyudo.html